Fall Into Beautiful Skin – September Promotion
Autumn Skin Care to Correct Summer Damage
Summer sun damage causes a weathered, leathery look, wrinkles, dark spots, and overall discoloration. To re-establish a healthly and hydrated glow, it is important to use skin care products that help to even out the appearance of skin color, lighten the look of dark spots, hydrate and protect.
Environ Skin Care has the perfect solution to help regain the appearance of moisturized, smooth, clear and youthful skin.
 September Promotion
Product of the Month: Environ C-Quence Energising Masque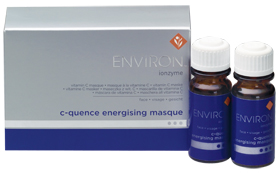 A gentle micro-exfoliant masque, formulated with a non-irritating form of vitamin C, to assist in softening the appearance of fine lines and uneven skin tone. It contains salicylic acid to gently exfoliate and smooth dry skin, and vitamin C to give the appearance of a refreshed, radiant, more even toned complexion. It is particularly beneficial for sun damaged and mature skin which will appear revitalized almost immediately!
*C-Quence Energizing Masque is not appropriate for reactive/compromised skin such as rosacea and acne.
As A Free Gift With Purchase: Environ C-Boost 10 ML Travel Size
When you purchase a C-Quence Energizing Masque, you will receive an Environ C-Boost. An extraordinary clarifying  vitamin C antioxidant cream, it will assist in softening the appearance of fine lines, uneven skin tone, and help to protect against external elements. Used morning and night, it will help your skin achieve a uniform tone, refreshed glow and youthful appearance.
These products help to energize, revitalize and brighten the skin. They contain a high concetration of vitamin C that work to enhance the skin's natural radiance and leave it feeling refreshed and revitalized. The C-Quence Energising Masque as well as C-Boost is suitable for all skin types and can be used as part of a regular skincare routine to help improve the overall health and appearance of the skin.
This is only September Promotion. So hurry till supplies last!