Osmosis Color Mineral Makeup
At Unique Verve we care about the integrity of the skin and want to provide the best, most effective, and safest products to our clients. Therefore, we have researched many different make-up lines on the market and have found our favorite: Osmosis Color Mineral Make-Up.
What makes Osmosis Color the best mineral makeup?
"In designing the formulation for Osmosis Color Minerals, Osmosis wanted to raise the standard of what mineral makeup should be by enhancing the natural radiance of the skin without the potential of health risks that can be found in most other mineral makeup. In further advancing the formula, Osmosis focused on improving skin health. An ingredient that is unique to Osmosis,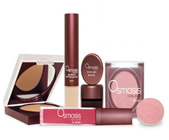 SRGF -7™, optimizes the sun protection qualities of this beautiful makeup collection.
Osmosis takes the worry out of mineral makeup by making the most medically safe mineral powder foundations in the world. Its' philosophy is to restore the skin to its most healthy state. Osmosis Color Minerals achieve this goal while enhancing your skin's natural radiance. Whether your skin tone is Warm, Cool or Neutral, you will find the right color for your skin in Omosis Color Minerals."
Osmosis Color Make-Up Offers:
1. Safety – Research has confirmed the damaging effects of titanium powder on lungs which means 99.9% of mineral makeup may be harmful. Osmosis + colour eliminates that risk by using only zinc, which benefits the skin and body while providing broader sun protection.
2. Repair – Skin Repair Growth Factor™ Zinc fingers are part of our skin's DNA repair process. Every Shade application will contain SRGF-7 (Skin Repair Growth Factor™) which uses zinc finger technology to increase sun protection at the cellular level while correcting long-term UV damage.
3. The Perfect Shade™ – Are you settling for an imperfect color match? Experience the remarkable difference in your skin's radiance and natural beauty.
4. Coverage – Micronized zinc provides broad-spectrum coverage that naturally hides skin imperfections while providing flawless radiance and improving skin health.
5. Very Water Resistant – Work out, Sweat, Swim, Shower!
6. Affordability – Even while containing the highest quality ingredients in the industry, Osmosis Color has made mineral makeup more affordable.
7. SPF 25+ – Wearing Shade daily provides SPF 25+ protection for your skin, deflecting the damaging rays which prematurely age the skin.
8. Free of Titanium Oxide, Fillers, Phthalates, Parabens, Colorants, and Fragrance.
9. Contains: Goji Berry – an Amino Acid and Protein Complex; as well as Skin Nourishing Vitamins and Antioxidants
10. Bismuth-Free Formulation
11. Great for pictures – doesn't reflect light
This makeup line provides virtually seamless and natural looking coverage with a very smooth finish. It doesn't feel or look heavy or powdery. Osmosis makeup does not oxidize during the day. It does not accentuate pores, fine lines, or wrinkles. This make-up stays on the skin throughout the entire day, unlike other natural mineral based make-up lines that need to be re-applied as the day goes on.
Osmosis Color Mineral Make-up is highly pigmented and feels like your own skin. It is gluten free. Osmosis products are listed as one of the 432 companies setting the bar for safer personal care products.
I discovered Osmosis Color Makeup at a skincare conference. Back then we used to carry another natural mineral make-up line. I decided to test and compare both of the lines at the same time. I applied Osmosis make-up on half of my face and the other make-up on the other half. The verdict by strangers and clients: The Osmosis side looked flawless and much more natural than the other side. I fell in love with Osmosis Color Makeup for its performance, safety and quality.
• Pressed powders feel very soft on the skin. They look extremely natural and flawless. My skin is extremely dry and I was never able to wear pressed powders prior to this one. Osmosis + Colour powder is the first one that looks amazing on the skin. It is probably because it contains Jojoba oil.
• Concealer contains both a concealer and moisture stick. The moisture stick really makes a difference as it softens the lines around the eyes and prepares the skin for the concealer. Full of Argan Oil, Apricot Oil, Coconut Oil, Shea Butter and Vitamin E to nurture delicate areas, the moisture stick hydrates and plumps to soften lines and wrinkles around eye area and lips. The concealer covers dark circles, and camouflages pigmentation and redness on face and body.
• Eye Shadow Trios come in a variety of beautiful, highly pigmented colors that last the entire day!
• Eye Pencils and Lip Pencils are non-smudging. They stay on the skin all day long!
• Blushes come in beautiful color variations. They are subtle, yet highly pigmented!
• Bronzer is virtually seamless! It gives a gorgeous, sun-kissed look! No signs of orange particles on the face that I have experienced with other bronzers.
• I am a big fan of the Lip Glosses. Osmosis Lip Glosses feel incredible on the lips. They keep lips soft and hydrated throughout the day. I have literally substituted my chap stick to Osmosis Aura Lip Gloss because it just works better at keeping my lips hydrated!
• Lipsticks are extremely long-lasting and stay all day. They don't run or migrate to your teeth. Although the texture is very creamy, I still prefer to put a coat of my favorite Osmosis Aura lip gloss over.
We offer Free Color Matching and Osmosis Make-Up Application after all our Facials. Please let us know ahead of time if you would like to try this make-up after your facial, as we would need to reserve some extra time for you. We also offer Free Shipping on Orders of $50 and more.