[caption id="attachment_43812" align="aligncenter" width="440"]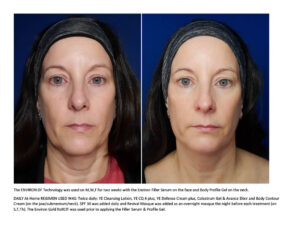 Environ DF Vitamin Infusion with the Filler and Neck Treatment[/caption]
Why should you try Environ Active Vitamin Facial?
Unique Verve
is proud to offer
Environ's Signature Facial.
Harpers and Queen quoted it as "One of the top 10 best
facials
in the U.K." At the very forefront of scientific skin care the Ionzyme DF Machine, is probably the most effective machine in the world today. It significantly enhances penetration of vitamins into the skin.
Vitamins A
and C are essential for the maintenance of a healthy and youthful skin. This revoulutionary system enhances the penetration of vitamins contained in the
Environ
professional skin care
products
ensuring optimum effective results. As a result we can treat acne, acne scars, chickenpox scars, rosacea as well as pigmentation. It is also effective in treating scar tissue, wrinles, fine lines, stretch marks and cellulite.