Watermelon summer salad
Watermelon summer salad brought to you by Natalie Maibenko, Unique Verve best facial in Boston. It may sound strange but I promise that it will become one of your favorite summer salads. This salad is very quick to make, delicious and nutritious. I have no doubts that you will impress your family and friends with this untraditional recipe. What a perfect timing for the 4th of July celebration!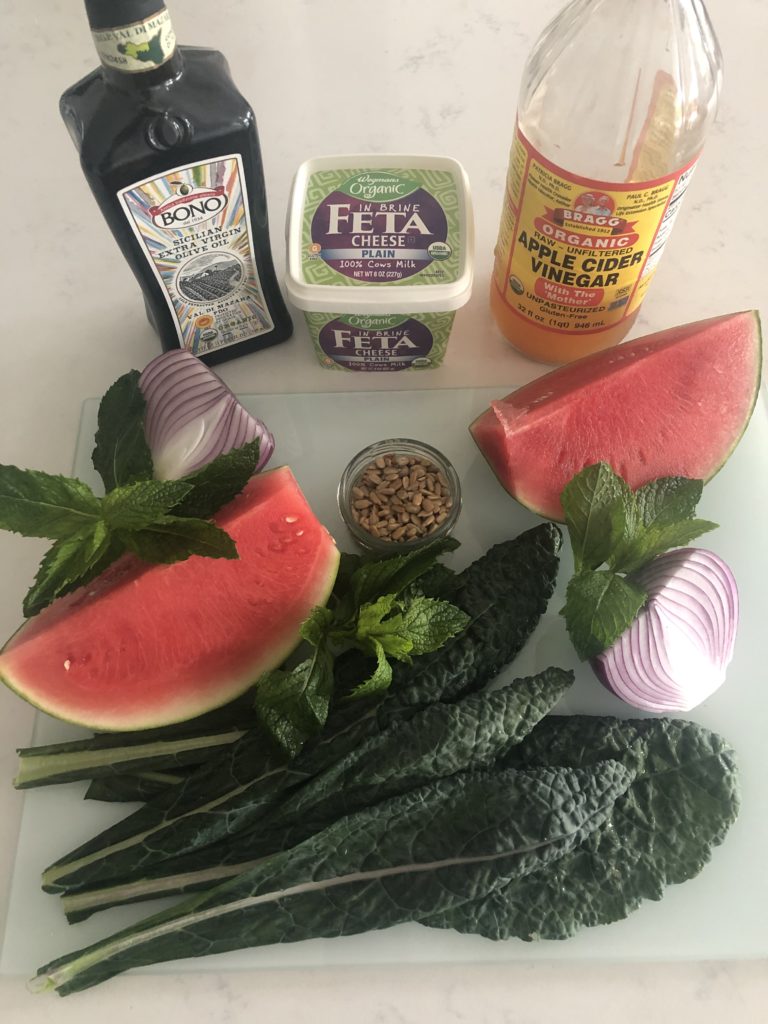 As you can see you don't need many ingredients. You will need the following ingredients for this watermelon summer salad:
Kale – remove the stem from the center of the leaf. I use those stems to do green juices. Now chop soft part of the leaf and throw it into the salad bowl.
Mint is not always available so you can use it whenever you can get it. I don't like to chop the mint but rather just rip it with my hands. It really gives a beautiful aroma not only to the salad but it freshens up the entire house.
Add roasted sunflower seeds into the same bowl.
Cut red onions thinly into half or quarter rings and add into the same mix.
Cut watermelon into cubes and add into same bowl
Feta cheese gives a nice taste to this salad. However I don't recommend adding it for those who have inflammatory skin conditions. Dairy can exacerbate acne, rosacea and dermatitis.
Add extra virgin olive oil, apple cider vinegar, salt and black pepper to taste.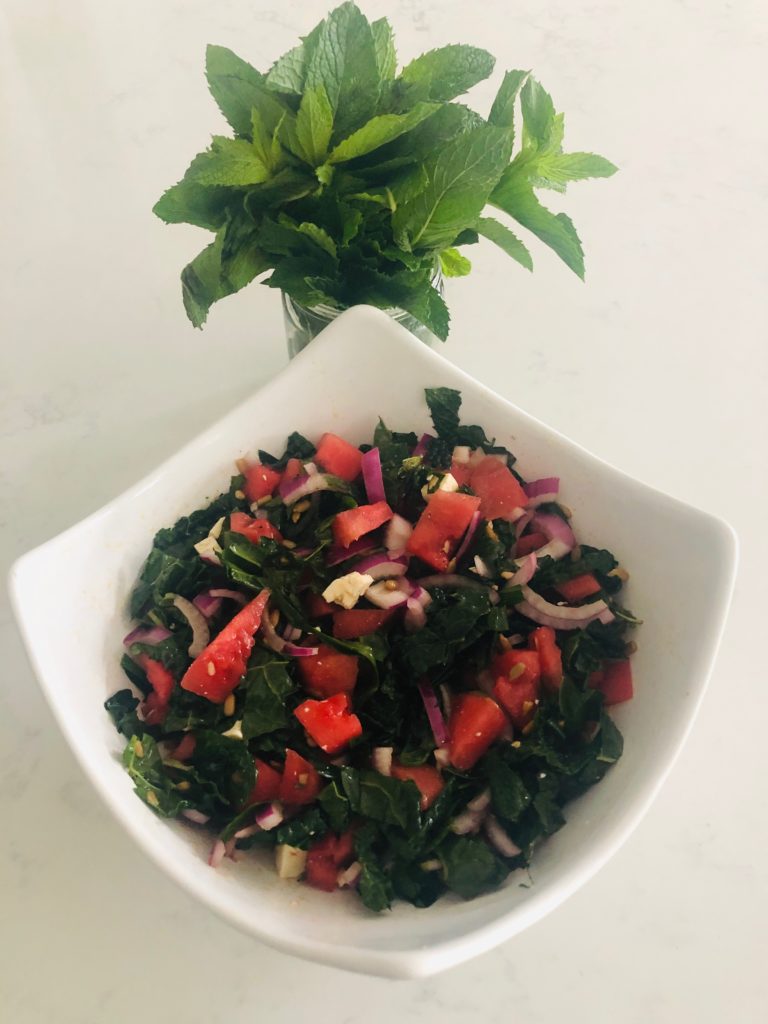 I also want to mention wonderful benefits of all the ingredients used in this delicious salad:
Watermelon is made of 90% of water, so it can benefits those who don't like to drink much water. And it is useful in staying hydrated. High water content can improve digestion by promoting regular bowel movements. As a result this helps to prevent constipation. Watermelon contains vitamin C which is essential in collagen and elastin production. Studies are showing that vitamin C plays a critical role in neutralizing free radicals, inhibiting melanin production and in the prevention of skin aging. A clinical study suggests that watermelon extract can also improve arterial function.
Kale is high in fiber which helps to improve bowel movement. Fiber is also a necessary food source for our microbial friends in the gut. It has also shown to reduce the incidence of developing type 2 diabetes.
Red onions have lower glycemic index than yellow or white onions. Red onions contain high amounts of Quercetin. Studies show that Quercetin helps to calm immune system. It also helps to reduce allergies as well as inflammation.
Sunflower seeds are rich in B vitamins which are essential for a healthy nervous system. They are also an excellent source of vitamin E which can protect our skin from UVA rays, according to the study.
Apple cider vinegar improves digestion which can help to loose weight. It also regulates blood sugar.